Blog
2018-08-09
Die beste restaurant in die Strand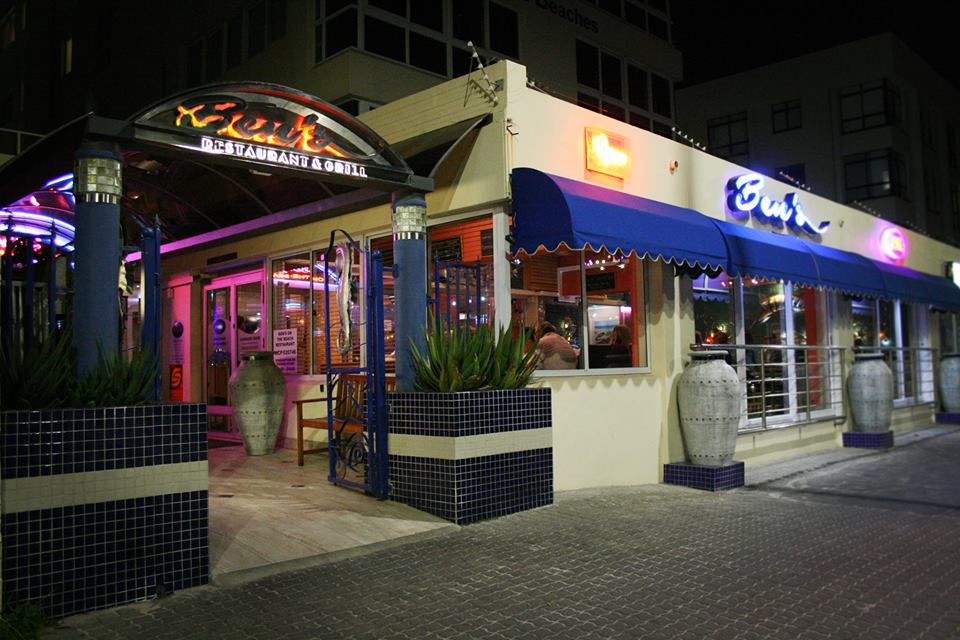 Volgens TripAdvisor is die nommer een Restaurant in die Strand Ben's of Ben's on the beach. ( www.bens.co.za ) . Een van my selfopgelegde pligte is om die beste van die Helderberg uit te snuffel en om daaroor te skryf sodat die webwerf 'n lekker akkurate bron van inligting is vir die vakansieganger in die Helderberg.
Sedert my en my vrou se laatlammetjie amper drie jaar gelede gebore is, is ons geswore lede van die Spurklub. Ons het al probeer om ander restaurante te besoek maar dit ontaard elke keer in 'n stryd en stryery oor wie se beurt dit is om agter Ella aan te loop, skuus hardloop. Ella is lief vir die lewe!
Terug by die onderwerp van die beste Restaurant in die Strand, die van Ben's on the beach...
Ek het besluit om vandag vir Ben's on the beach die eerste keer self te gaan besoek. Melanie en Ella het gaan kyk hoe Saskia perd ry in Stellenbosch en ek het dus die dag "af" gehad vir myself.
11 uur kon eintlik nie vroeg genoeg kom nie. (Die restaurant open soggens om 11) . Aangesien dit winter is het ek geen probleem gehad om parkering reg voor die restaurant te vind nie. 'n Gevoel van opwinding het oor my gespoel toe ek in die restaurant in stap. (Eintlik sukkel ek met 'n lastige verkoue en het ek die uitstappie as 'n werksending beskou.) Dalk myself vir 'n oomblik as 'n topklas restaurant kritikus beskou. 'n Mens moet regtig 'n sielkundige verstoring hê om iets fout te vind by hierdie topklas restaurant.
Goed, goed kom ons wees 'n bietjie nugter en dink / redeneer mooi oor hierdie saak. Presies hoekom word Ben's gereken as die beste restaurant in die Strand? Ek gaan probeer om 10 redes neer te skryf.
1.) Baie lekker kos
Ek kan baie skryf oor baie dinge maar as mens 'n restaurant besoek wil jy darem lekker kos eet. Ben's is bekend vir hul biefstuk maar ek het gisteraand by die huis fillet biefstuk met Olyfhout gebraai so ek was lus vir 'n verandering. Hulle etenstyd halwe Zanzibar Piri Piri hoender was in die boonste klas. Daar was geen probleem om vir my eerder baba aartappeltjies te gee in plaas van die normale skyfies. Die komkommer jogurt "dip" het die dis perfek afgerond, om nie te praat van die vars groente nie.
2.) Vriendelike ontvangs en diens
Ek is vriendelik by die ontvangs gegroet. Ek was net agter ander gaste wat opgedaag het en deurgevat is na hul tafel deur die dame van ontvangs. 'n Tweede kelnerin het my raakgesien en dadelik ingespring en my kom groet. Ek is vinnig na my tafel geneem. Dit was redelik vroeg in die oggend en ek was op 'n missie. Ek kon met gespitste ore hoor hoe die staf met mekaar gesels. Daar is duidelik 'n positiewe gevoel van samehorigheid onder die personeel wat daar werk. Die diens was deurentyd flink, nie te veel nie en nie te min nie.
3.) Pagtige dekor, meubels en eetgerei
Net voor ek gesels oor die asemrowende uitsig, iets oor dit wat binne die beheer van die eienaar van die restaurant is (Dekor, Meubels en Eetgerei) : Fantasties! Fantasties is die een woord wat by my opgekom het toe ek vandag daar weg stap en begin wonder oor hoe ek die plek gaan beskryf. Die dekor en meublement van die restaurant wat reeds 14 jaar oud is plaas die restaurant reeds in 'n ander klas. Tot die servette is stylvol gebrandmerk met die Ben's naam. Die tafel langs my het vleis bestel en spesiale messe gekry vir hul sappige biefstuk. (O jinne ek moet terug gaan!)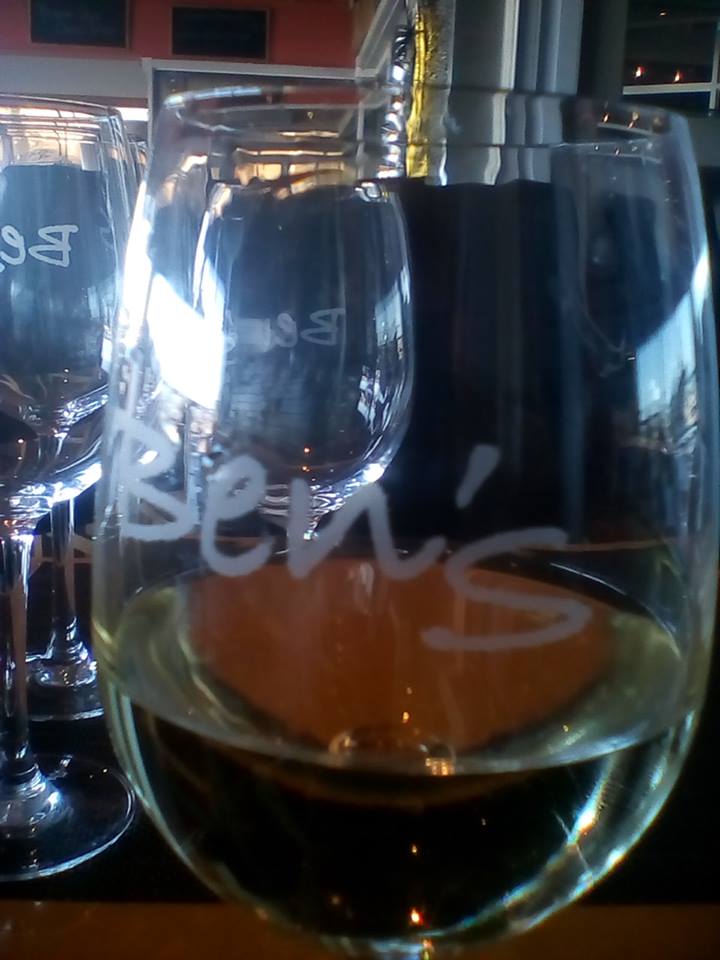 4.) Aswemrowende uitsig oor Valsbaai
Nog 'n baie interessante verassing vandag was die ongelooflike uitsig oor Valsbaai. Daar is min restaurante wat 'n soortgelyke uitsig oor Valsbaai bied. Ek het vandag gedink dat ek baie dankbaar is dat hierdie restaurant eienaars die wonderlike geleentheid gekry het om hulle besigheid hier te bedryf. 'n Mens weet sommer hulle waardeer en respekteer hul besigheid en die ligging deur hul absolute beste te gee met die bestuur van hul restaurant.
5.) Die beste bestandele
Ek het al baie hoender in my lewe ge-eet so ek ken van hoender. Trouens ek reken myself as 'n spesialis op die gebied van hoender, wel van hoender braai. My vrou kan allerhande ander dinge met hoender aanvang wat haar in 'n klas van haar eie plaas. (Lekker kruip ek g@t so op hierdie vrouedag). Die oomblik toe ek die hoender met belusting aanval met die mes het ek dadelik geweet hierdie is die beste hoender beskikbaar op die mark.
6.) Goeie verskeidenheid wyne
Party mense ken hul wyne net beter as ander. Ook in hierdie afdeling is Ben's 100% in die kol. Ek het 'n kraffie Kleine Zalze en 'n Kraffie Doughlas Green Shiraz geniet.
7.) Sagte musiek
Die musiek wat tydens middagete gespeel is was perfek. Dit help om die perfekte atmosfeer te skep.
8.) Romantiese eetplek
Ek kan nie wag om my vrou een aand na Ben's te neem nie. Ek is seker hulle musiek en die algehele atmosfeer sal perfek wees vir 'n romantiese aandjie uit. Vanmiddag op my eie was nou nie juis romanties nie.
9.) Gesinsrestaurant
Die mense wat net voor my by Ben's ingestap het, het gewag vir hul kinders. Ook die tafel reg langs my was saamgestel uit 'n jong paartjie en die se ouers asook jonger boetie. Dit is duidelik dat Ben's 'n familie restaurant is waar families en beste vriende bymekaar kom om die lewe te geniet en te vier.
10.) Skoon en vars
Daar is geen rook area binne of buite Ben's nie. Selfs vir my wat 'n geharde roker is, was dit nie 'n probleem nie. (Wonder hoekom ek dan nie maar ophou nie?) Dit klink dalk onbenullig maar daar is baie restaurante waar dinge bloot nie skoon en vars is of ruik nie. Ben's is silwerskoon.
11.) Billike pryse
Dalk die grootste verassing vir my is dat die nommer een restaurant volgens TripAdvisor ook baie billik geprys is. My middagete met 10% (vrywillige) fooi het op R220 te staan gekom. (Die piri piri hoender en twee kraffies lekker wyn.)
12.) Aandag aan detail
Dit is vir my baie duidelik dat hier aandag aan detail gegee word. Vandag was Vrouedag en alle vrouens is 'n gratis kraffie wyn aangebied. Die detail ingesteldheid loop regdeur die restaurant. Vanaf die aankope, personeel-aanstellings , kos voorbereiding en bediening, die dekor...alles.
Ek het my rekenmeesters geaardheid goed gestand gedoen met hierdie lysie van 10 nee 12 redes oor hoekom ek dink Ben's verdien die nommer 1 plek volgens TripAdvisor. Ek sal eenvoudig "moet" terug gaan. Ek gaan solank soek na 'n kinderopasser sodat ek my vrou soontoe kan neem.
Om af te sluit het die volgende gedagte by my opgekom vandag: elke persoon wat 'n restaurant wil oopmaak behoort eers 'n draai by Ben's te maak voordat hulle so 'n besluit neem. Kan dit regtig so moeilik wees om dinge reg te doen? Sien ek was een keer by Ben's en nou is ek 'n snob!