Blog
2018-09-17
Laagwater Hengel in die Strand by Greenways
Die naweek is op sy kop en ek het lekker gehengel hier in die Strand voor Greenways waar ek bly. Ongelukkig is daar nie juis fotos van groot visse om te deel nie.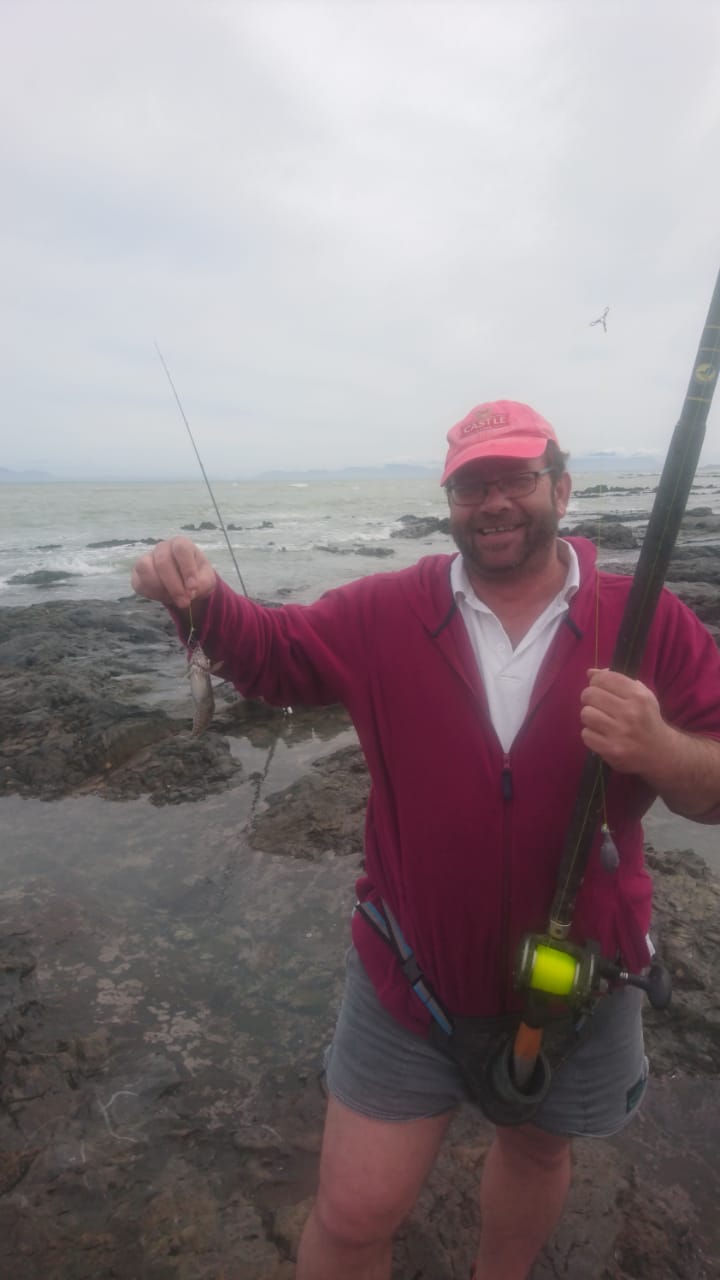 Foto bo: My eerste Klipvissie. Die eerste een van twee na 6 ure op die rotse
Ek bly nou reeds langer as twee jaar hier op Greenways wat reg op die Strand is. Van klein tyd is ek baie lief vir hengel maar om een of ander rede het die gedagte daaraan om 'n natpak aan te trek en oor die rotse te loop tot voor en die koue waters van Valsbaai aan te durf my nie vreeslik aangestaan nie. Dit is nou tot Saterdag toe Alex my kontak vir 'n hengeluitstappie. Ek hengel eintlik eerder so uur of wat voor hoogwater tot so uur of wat na hoogwater. Op baie plekke in die Strand kan mens eintlik net presies die teenoorgestelde doen.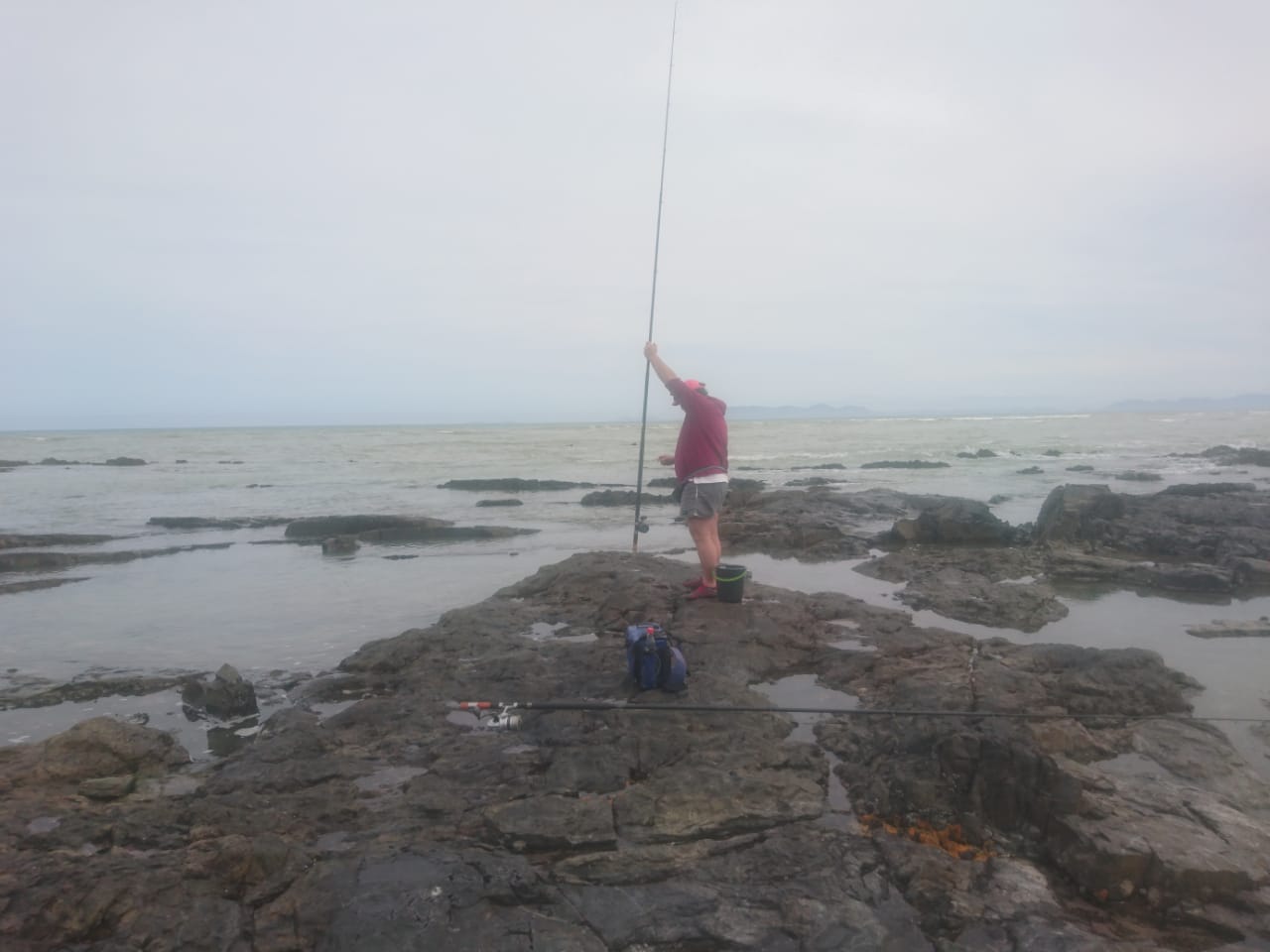 Foto bo: Die uwe besig om reg te maak. My hengelgerei is eintlik te swaar vir die spesies wat ons geteiken het die dag. Met witmossels het ons gehoop op Das (plaaslike naam vir 'n Kolstert), dalk 'n Galjoen, Suid Afrika se naionale vis waarvan ek nog nie een gevang het nie. Wees geduldig , die foto en die storie kom binnekort. Ek kom oorspronklik van Natal en die hengel daar en hier in Valsbaai verskil hemelsbreed. Die eintlik rede hoekom ek nog nie vreeslike sukses behaal het nie is bloot omrede ek nie genoeg tyd langs die viswater spandeer het nie en ook nie spesifiek byvoorbeeld Galjoen geteiken het nie. Rooiaas stink byvoorbeeld vir my verskriklik. Wel die somer is hier en ek het besluit dinge gaan verander. Nuwe gerei, nuwe kennis en 'n nuwe benadering. Ek wil graag kyk hoeveel nuwe spesies ek kan vang en getrou aan my geaardheid sal ek daaroor blog op hierdie einste webwerf. Kyk as ek 'n foto deel van myself en 'n Klipvis weet verseker ek sal 'n foto van my en my eerste Galjoen ook deel.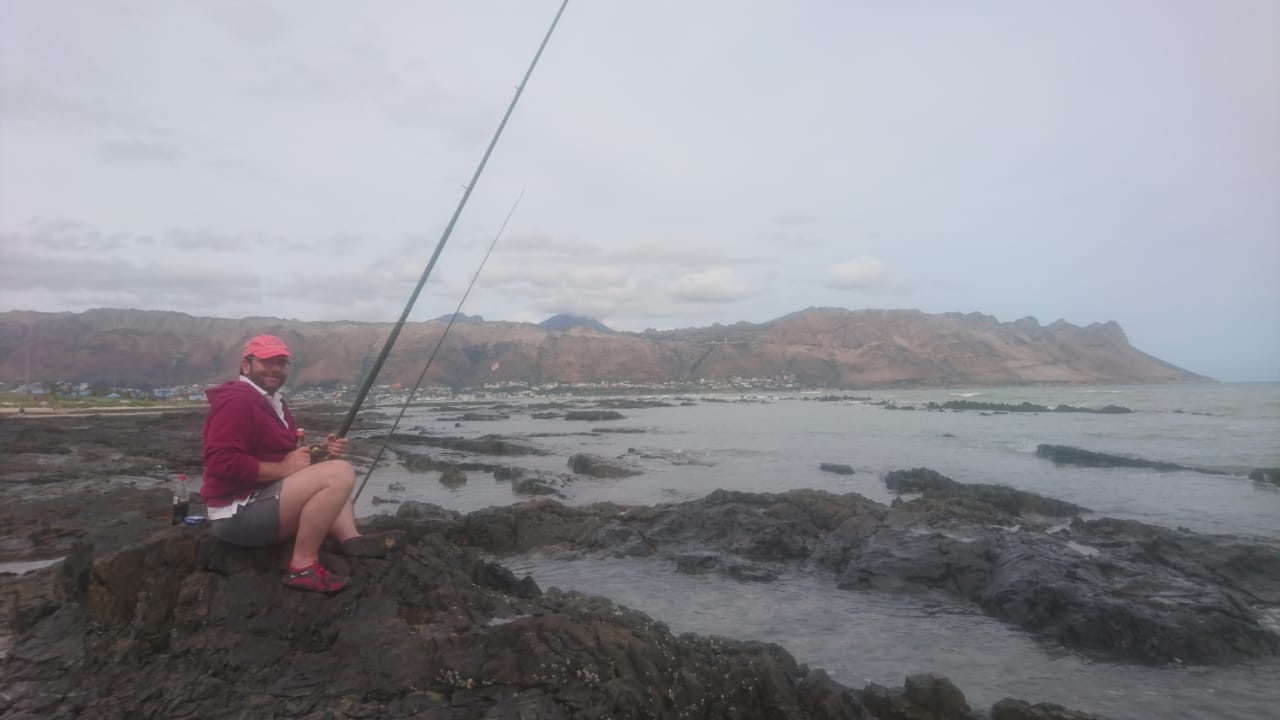 Foto bo: so op my boude met 'n koue bier is hoe ek verkies om te hengel en dit veruidelik dalk hoekom ek nie so gereeld hierdie rotsplate tydens laagwater in die Strand aandurf nie. 'n Mens kan dalk wegkom , soos ek, sonder 'n natpak (wetsuit) wanneer jy hierdie rotsplate aandurf maar beslis nie sonder die regte skoene nie. Die rotse is skerp. Ek het so lekker sny teen my kuit opgedoen tydens die naweek se hengel. 'n Rukkie nadat die foto geneem is het mense deur die water regs bo tot op die voorste rotse geloop en van daar af gehengel. Dan het mens beslis die regte toerusting nodig soos 'n natpak, spesiale skoene en spesiale rugsakke vir jou aas en gerei. Die plaaslike mense het al mooi geleer hoe om dit te doen. Ek sien hulle berei meeste van hulle aas voor die tyd voor sodat hulle so staan, staan kan hengel. Mens kan slegs hier veilig hengel wanneer die see rustig is. Andersins sal dit dwaasheid wees.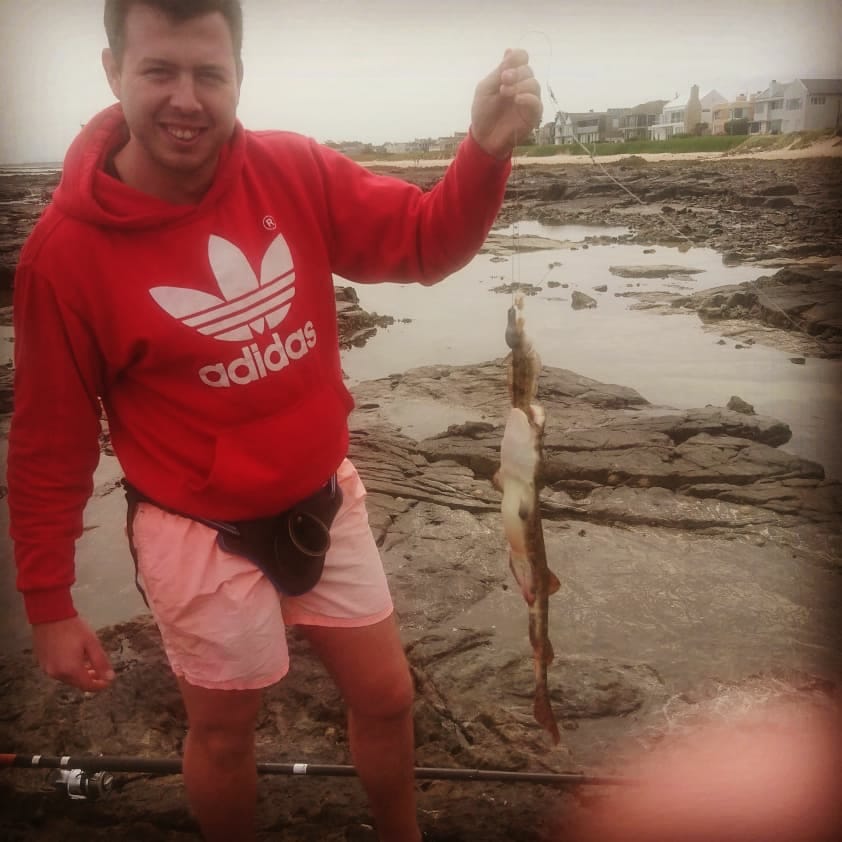 Foto bo: Twee visse met een hoek gevang
Ek het al baie gehoor van mense wat twee bokke met een koeel skiet maar nog nooit van twee visse met een hoek sonder dat die tweede vis die eerste vis heeltemal insluk en self gehak word nie. Hiedie klein haaitjie het aan die rotsvissie vasgebyt sonder om oor die hoek gebyt maar bloot geweier om te los en so saam uitgekom. Ongelooflik!
Saterdag het ons Witmossels gebruik en toe Sondag het ons Tjokka gebruik aangesien die water belowend vir Kabeljou gelyk het. Ons het hier en daar 'n amperse ordentelike byt gekry maar moes tevrede wees met net 'n lekker dag van ontspan op die rotse.
Van die meer ervare plaaslike hengelaars het opgedaag terwyl ek op my laaste gooi was en ek het hulle goed dopgehou om te sien wat doen hulle anders. Hulle gerei was ligter en hul ase en hoeke was kleiner. Daar het wel die naweek in ander dele van Valsbaai heelwat groot Kabeljoue uitgekom, groter as normaal so ek was nie buite die kol met my keuse van aas nie. Ek dink as laagwater nader aan laatmiddag is sal ek 'n beter kans staan. Laagwater was tussen 1 en 2 die pas afgelope naweek en die middel van dei dag nooit die beste tyd vir Kabeljou hengel nie.
'